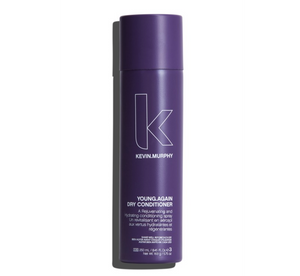 Geen droogshampoo maar een droge conditioner! Voor fris en gehydrateerd haar tussen je wasbeurten!
Zacht, fris & gehydrateerd haar tussen wasbeurten? Ontdek YOUNG.AGAIN DRY CONDITIONER, een gewichtsloze spray die je haren voedt, zacht en beheersbaar maakt en beschermt tegen de elementen. De zijdezachte formule is makkelijk aan te brengen en is perfect voor alle haartypes, texturen en lengtes. Skip de shampoo voor een dag en kies voor dry conditioning!
Voordelen van Young Again Dry Conditioner
voedend
hydraterend
ontwarrend
Hoe gebruiken?
Goed schudden! Spray op droog haar op de lengtes en de punten. Borstel of kam je haren en werk af naar wens.
Top ingrediënten
Extract van zonnebloempitten

 

beschermt tegen de zon en zit vol antioxidanten
Panthenol B5

 

maakt je haren zacht en beheersbaar & beschermt tegen luchtvochtigheid
Immortelle, hét top ingrediënt uit de YOUNG.AGAIN lijn hydrateert en verzorgt je haren
Conclusie
YOUNG.AGAIN DRY CONDITIONER geeft je haren nieuw leven ongeacht de lengte. Dry conditioner zorgt ervoor dat je je haren niet hoeft te wassen/conditioneren om ze opnieuw te hydrateren! Just spray and you're all set!